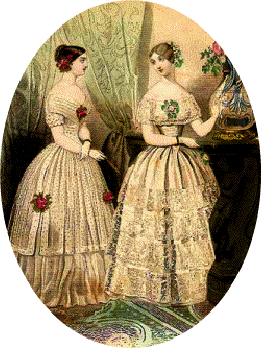 Related Links

The Flying Cloud Academy of Vintage Dance

18th & 19th Century Period Ballroom Dance Directory

Vintage Dance Society & Polite Society

The Dance Card Museum

An American Ballroom Companion - Dance Instruction Manuals
Flowers of the South Living History Society

back to FSLHS home | back to Research Resources
Dancing
Aldrich, Elizabeth. From the Ballroom to Hell: Grace and Folly in Nineteenth-Century Dance. Evanston, Ill., 1991.

The Ball-room instructer [!]; containing a complete description of cotillons and other popular dances. New York, Huestis & Craft, 1841

The ball-room manual of contra dances and social cotillons, with remarks on quadrilles and Spanish dance. Belfast, Me., H. G. O. Washburn; Boston, G. W. Cottrell, 1863.

Beadle's dime ball-room companion and guide to dancing. Comprising rules of etiquette, hints on private parties, toilettes for the ball-room, etc. Also, a synopsis of round and square dances, dictionary of French terms, etc. New York, Beadle and company [c1868]

Brieux Saint-Laurent, vicomte de; Quelques mots sur les danses modernes, par le vte de B. Saint-Laurent. Paris, C. Douniol, 1863.

Brookes, Lawrence De Garmo; Brookes on modern dancing, containing a full description of all dances, as practised in the ball room and at private parties, together with an essay on etiquette. L. New York [The author] 1867.

Brooks, C. Professor; The ball-room monitor; or, Guide to the learner; containing the most complete sets of quadrilles ever published. Philadelphia, J. H. Johnson [c1866]

Coulon, Eugène. Coulon's hand-book; containing all the last new and fashionable dances . London, Jullien & co. [1860?]

Czerwinski, Albert; Geschichte der tanzkunst bei den cultivirten völkern von den ersten anfängen bis auf die gegenwärtige zeit. Mit 34 in den text gedruckten abbildungen und 9 alten tanzmelodien.; Leipzig, J. J. Weber, 1862

De Garmo, William B.; The prompter: containing full descriptions of all the quadrilles, figures of the german cotillon, etc. New York, Raymond & Caulon, printers, 1865.

Durang, Charles; The fashionable dancer's casket; or, The ball-room instructor . Philadelphia, Baltimore [etc.] Fisher & brother [c1856]

Ferrero, Edward. The art of dancing, historically illustrated. To which is added a few hints on etiquette; also, the figures, music, and necessary instruction for the performance of the most modern and approved dances . New York, The author, 1859.

Gawlikowski; Guide complet de la danse. Contenant le quadrille, la polka, la polka-mazurka ... avec la musique. Paris, Taride, 1858.

Hillgrove, Thomas; The scholars' companion and ball-room vade mecum ... With hints and instructions respecting toilet, deportment,&c., &c. ...
New York, T. R. Turnbull & co., printers, 1857.

Hillgrove, Thomas. A complete practical guide to the art of dancing; containing descriptions of all fashionable and approved dances, full directions for calling the figures, the amount of music required; hints on etiquette, the toilet, etc. New York: Dick & Fitzgerald, 1863.

Howe, Elias; American dancing master, and ball-room prompter: containing about five hundred dances . Boston, E. Howe, 1862.

Howe, Elias. Complete ball-room hand book, containing upwards of three hundred dances ... By Elias Howe, assisted by several eminent professors of dancing.; [Boston, Ditson, c1858]

Mason, Francis.; A treatise on the use and peculiar advantages of dancing and exercises, considered as a means of refinement and physical development . London, Sharp & Hale, 1854

Meyen, H[enry]; The ball room guide, being a compendium of the theory, practice, and etiquette of dancing, embracing the newest quadrilles, polkas ... also, the Meyen quadrille, as taught by H. Meyen; New-York, E. & J. Magnus, 1852.

Palmer, Benjamin Morgan. Social dancing inconsistent with a Christian profession and baptismal vows: a sermon, preached in the Presbyterian church, Columbia, S.C., June 17, 1849, Columbia, Printed at the office of the South Carolinian, 1849.

Powell, R. Powell's art of dancing; or, Dancing made easy. Louisville, Ky., Harney, Hughes & Hughes, printers, 1848.

Rice, N. L. A discourse on dancing, delivered in the Central Presbyterian church, Cincinnati. Cincinnati, The Presbyterian book depository, and W. H. Moore, 1847.

Thornwell, Emily.; The lady's guide to perfect gentility, in manners, dress, and conversation ... also a useful instructor in letter writing; New York, Derby & Jackson; Cincinnati, H. W. Derby & co., 1857.

Webster, Alfred Mrs.; Dancing, as a means of physical education; with remarks on deformities, and their prevention and cure. London, D. Bogue; [etc., etc.] 1851.