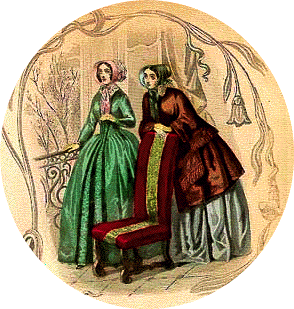 Related Links

Calling card etiquette

Civil War Pens & Writing

Civil War Love Letters

Basic Social Rules for Gentlemen

Basic Social Rules for Ladies

Ballroom Specifics

Dining Room Specifics

The Language of Nineteenth Century Etiquette Books
Flowers of the South Living History Society

back to FSLHS home | back to Research Resources

Manners and Etiquette
Abell, L.G., Mrs. Woman in her various relations: containing practical rules for American females. New York: Hubbard & Burgess, 1860.

Beadles's dime book of etiquette: a practical guide to good breeding and complete directory to the observances of society. New York: Beadle and Co., 1864.

Civil War era etiquette: Martine's handbook & vulgerism in conversation; illustrated from Godey's Lady's Book and their contemporary sources. Mendocino, CA: R.L. Shep, 1988.

Day, Charles William. The American ladies and gentleman's manual of elegance, fashion, and true politeness. Auburn, NY: Alden, Beardsley & Co., 1854.

Hill, Thomas E. Essential handbook of Victorian etiquette. Bluewood Books, 1994.

Kasson, John F. Rudeness and civility; manners in Nineteenth-Century America. New York: Hill and Wang, 1990.

Leslie, Eliza. Miss Leslie's behavior book: a guide and manual for ladies as regards their conversation, manners, dress, introductions, entree to society, shopping...with full instructions and advice in letter-writing, receiving presents, etc. Philadelphia, PA: Peterson, 1859.

The New letter writer: containing a great variety of letters on the following subjects: relationship, business, love, courtship and marriage, friendship and miscellaneous affairs; comprising also legal and commercial forms, and complimentary cards. New York: Clark & Maynard, 1864.

Schlesinger, Arthur M. Learning how to behave: a historical study of American etiquette books. New York: Macmillan, 1946.

True politeness; a handbook of etiquette for gentlemen. New York: Leavitt & Allen, 1853.

Wells, Samuel. How to behave; a pocket manual of republican etiquette, and guide to correct personal habits. New York, Boston: Fowler and Wells, 1857.