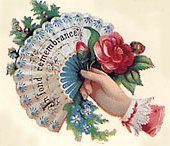 Related Links

Weeping Sad and Lonely: mourning in America

Mourning in the Nineteeth Century: an overview

Mourning Jewelry - Victorian Hairwork Society

Victorian Mourning Jewelry

Regarding Mourning Customs of the 1860's

Museum of Mourning Art
Flowers of the South Living History Society

back to FSLHS home | back to Research Resources
Mourning
Burns, Stanley B. Sleeping Beauty: memorial photography in America. Twelvetrees Press, 1990.

Curl, James Stevens. The Victorian celebration of death. Detroit: Partridge Press, 1972.

Harvey, John. Men in Black. Reaktion Books, 1996.

Mehaffey, Karen Rae. The after-life: mourning rituals and the mid-Victorians. Pipestone, MN: Laser Writers Pub., 1993.

Morgan, John Hill. Memento mori: mourning rings, memorial miniatures, and hair devices. New York: Magazine Antiques, 1930.

Pike, Martha V. And Janice Gray Armstrong, eds. A Time to Mourn; Expressions of grief in Nineteenth Century America. Stony Brook, NY: The Museums at Stony Brook, 1980.

Scantleburg, Cerena. Death, grief and ritual: an overview of American attitudes toward death. Oregon: Willamette University Undergraduate Research Grants Program, 1990.

Taylor, Lou. Mourning dress: a costume and social history. Boston: G. Allen and Unwin, 1983.